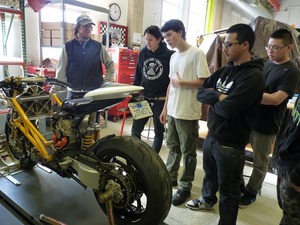 Many businesses start with people building things in garages. For the guys at Mission Motors, it was electric motorcycles. But to get there the team needed the parts and the technology to build an electric motor, which didn't exist. So, they started making them from scratch. 
Mission Motors now sells electric and hybrid powertrain products that they design and manufacture for other vehicle companies. They contract with other companies in the Bay Area for many of their parts and finish the product in their San Francisco factory and office.  Their sister business, Mission Motorcycles, builds electric motorcycles.
"Being here is all about the people," said Chris Zach, Director of Business Development. "We are able to hire the best people in the country because we are based in San Francisco." The company has 32 employees in their SOMA factory.
Last month, Mission Motors hosted 17 high school students as part of a tour for Inside Manufacturing, a new SFMade program that exposes high school students to San Francisco's manufacturers. "Our staff really enjoyed the opportunity to share what they're doing, and the kids asked really insightful questions about the technology and business," said Zach.