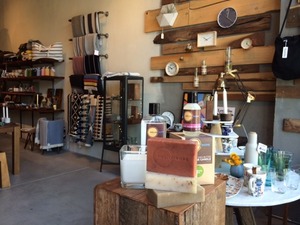 There's a lot you'll need to know before you open a retail space, but for brevity's sake we compiled some of the key lessons learned by Jonathan Plotzker of Heliotrope while opening his new space on Valencia and 15th Street. It's a joint venture, featuring home furnishings and accessories for human and animal friends, and Heliotrope's own skin care line.
1. Extend your timeline. "We did the permitting agreement in November and had the idea that we would move in by the first of the year. We ended up opening in mid-May!" Depending on the kind of construction needed for your particular space, keep in mind that permits can take months of back-and-forth.
2. Consider alternative sources of income. If you're moving from an old retail space into a new one (like Heliotrope) or rebuilding, think about alternative ways to earn income when that sales channel is cut off for several months. For Jonathan, that meant participating at street fairs (which they typically don't do) and focusing on growing their wholesale channels.
3. Ask for help. Don't have a construction or interior design background and want some advice? Having trouble expediating something through City Hall? Ask your network for help, talk to your neighbors, call SFMade! Point is, you never know who may have the right tools, ideas or connections.
4. Social media is your best friend.  Not only should you use it to keep your followers updated and excited (is your shop dog doing cute things with your storage boxes? MAKE HIM. We all love an animal video.) It's an opportunity to ask for help with projects when you need an extra hand (which will certainly be the case while working on the space).
Check out Heliotrope's beautiful new store, Acacia here.