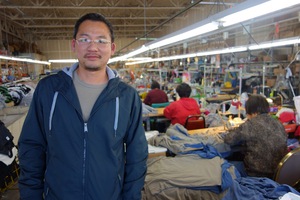 Inside Globia Design Group's factory sewing machines hum, Chinese pop songs blast out from the radio, large windows open up the room to a view of downtown San Francisco, and William Lin sits at his desk. Lin's parents started Globia Design Group about 15 years ago and have now retired the apparel factory to him (although he said occasionally they come in to boss him around). The company, ranging from 20 to 40 employees depending on the season, specializes in making t-shirt blanks, hoodies and other basics for local designers. 
Globia joned SFMade in July of 2012 and soon after was presented with a major challenge: high rents were pushing his business and other sewing factories out of their building on 6th and Market Streets. SFMade's Places to Make Program Manager showed Lin several spaces until they found an affordable space in the Dogpatch. It was a little further for his employees to commute (most of whom live in Chinatown and the Sunset), but had room to grow, high ceilings, and the conveniences of a loading doc, freight elevator and a well-kept building. 
It's been about a year since the company moved and Lin says business is stable, with many of his clients being other SFMade members. When SFMade referred Headline Shirts to Lin a few months ago, he hired almost 20 new sewers. He says every once in a while a designer pops up referred from SFMade and he regularly works with three to four SFMade brands. "I enjoy making products here, and it's great to work with other companies who share the same values," he said.
To work with Globia call 415-369-3186.