Bay Area MFG Week 2021 + National MFG Day: Global Shifts, Local Shape: Remaking Manufacturing for the COVID Era – MFG Week Panel
October 5 @ 11:00 am

-

12:00 pm

|

Free
Event Navigation
Four of San Francisco's leading manufacturers share what changes the COVID-19 pandemic has brought to the local sector — An MFG Week event
Join us for a conversation about the changes the COVID-19 pandemic has brought to the local manufacturing sector with four of San Francisco's leading manufacturing companies — An SFMade event celebrating MFG Week.
After a year a half, the COVID-19 pandemic has lasted longer than many expected and the temporary changes in markets and consumer preferences may become permanent. To survive during this time manufacturers have had to develop new products, new markets, and new sales methods. Adaptability and evolution have been the key to success.
You will hear from manufacturers in four industries – food, ceramics, electronics, and apparel – about the similar challenges they've faced and the changes they have made to meet them. Specifically they will discuss:
The marketplace and consumer behavior as sales have moved online,
Workplace operations as new modes of safety became a top priority for employers, and
Supply chain as shortages from affected countries around the world impacted even the most local of producers.
The Panelists:
Hyunjoo Albrecht, Kimchi Maker & Owner of Sinto Gourmet
Robin Petravic, Managing Director of Heath Ceramics
Ryan Saul, Sr. Director of Sales Engineering of Tempo Automation
Johnny Travis, Co-Founder & Head of Marketing of State of Flux
Moderated by Janet Lees, Acting CEO and Co-Founder of SFMade.
SIGN UP FOR THIS FREE EVENT HERE.
Bios:
Hyunjoo Albrecht, Sinto Gourmet
Hyunjoo Albrecht is the CEO/Founder of Sinto Gourmet LLC, founded in San Francisco in 2010. She started the company in her bedroom with $8,500 and Kimchi recipes inherited from her grandmother. After these humble beginnings, Kimchi has become very popular over the years and you can now find Sinto Gourmet Kimchi in nearly 4,000 retail shops nationwide.
After moving to US from South Korea in 2003, Hyunjoo went to culinary school and worked as a chef at various restaurants, country clubs, and catering companies; this experience shaped her food management skills and inspired her passion for food.
Prior to immigrating to the US, Hyunjoo worked for the Sysco Systems Korea office in charge of selling and marketing networking solutions.
Robin Petravic, Heath Ceramics
Robin Petravic is Co-owner and Managing Director of Heath Ceramics. With relentless drive towards better business, Robin leads the nuanced operations of a design-led Heath, paving the way for its long-term viability, and strong contribution to its community.
In 2003, following a happen-stance visit to Heath Ceramics in Sausalito, California, Robin and his partner Catherine, purchased the ailing pottery that first began in 1948. Determined to reverse the dying art of American-made, the duo continued, without compromise, designing and making locally, under one roof. Methodically, they've built a full-circle, responsible business, anchored in Edith and Brian Heath's original vision—one with utmost product integrity, that employee-owners are proud to carry on.
Robin's superpower is Slow Business—marrying a business's profit with its power for good—growing sustainably, leaving the world better for having existed. To this end, in a very proud moment in 2015, Heath was awarded the Cooper Hewitt National Design Award for Corporate and Institutional Achievement.
Schooled in life and a Master's Degree in Product Design from Stanford University, Robin's early years were spent as a product design consultant in consumer goods and technology. Last, and certainly not least, Robin is dad to teenage son, Jasper.
Ryan Saul, Tempo Automation
Ryan Saul is Senior Director of Sales Engineering at Tempo Automation, where he leads customer facing engineering support and design development. During Tempo's younger days Ryan was in charge of production, logistics, QC, and was responsible for evaluating and developing manufacturing processes that improved operations and output on the factory floor.
Prior to Tempo, Ryan was Co-Founder and Chief Electrical Engineer at Prototank, a consumer technology product development startup helping to manufacture, design and provide feedback on PCBs for some of the most popular electronics in homes today. Prior to Prototank, Ryan worked as a contract engineer for dozens of technology companies.
His background as an electrical engineer experiencing the unique challenges that the industry faces with quick turn manufacturing for PCB lends him perspective and expertise that he brings to every Tempo customer experience.
Johnny Travis, State of Flux
Johnny Travis is the Head of Marketing, Public Relations, Apparel Buyer and Co-owner of State Of Flux with Herbert Gracia.
He was born and raised in San Francisco by a single mother. Being the first in his immediate family to attend college, he graduated from San Francisco State University with a B.S. in Business Administration/Management. Upon graduation, he started working for an investment firm in the Bay Area. There, he started with an entry-level client services position and worked his way up to the firm's marketing department where he headed the creative for online display and email marketing channels.
During his tenure at the investment firm, he started FAZE Apparel with Herbert Gracia and Matt Abfalter (whom he met at San Francisco State University). He filed all business formation and trademark documents for FAZE in addition to solidifying the brand's voice via various marketing tactics. In 2019, he was able to successfully facilitate the sale of the brand with Herbert Gracia. Since that time, he started State Of Flux with Gracia and controls all the marketing and branding efforts for the brand. He now has over 14 years of experience as an entrepreneur, brand architect and marketer in the fashion industry.
*****
This event is part of Bay Area MFG Week 2021 and National MFG Day.
Bay Area Manufacturing Week 2021 is an annual celebration of manufacturing throughout our region and features expert panel discussions, virtual and in-person tours, listening sessions with manufacturers, and round tables featuring stakeholders from cities around the Bay.
Attend one of the multiple events, support and engage with local brands and see how they make it in our cities! Learn more and find the full calendar of events here: bayareamfg.org/manufacturing-week-2021/
Questions? Please email [email protected]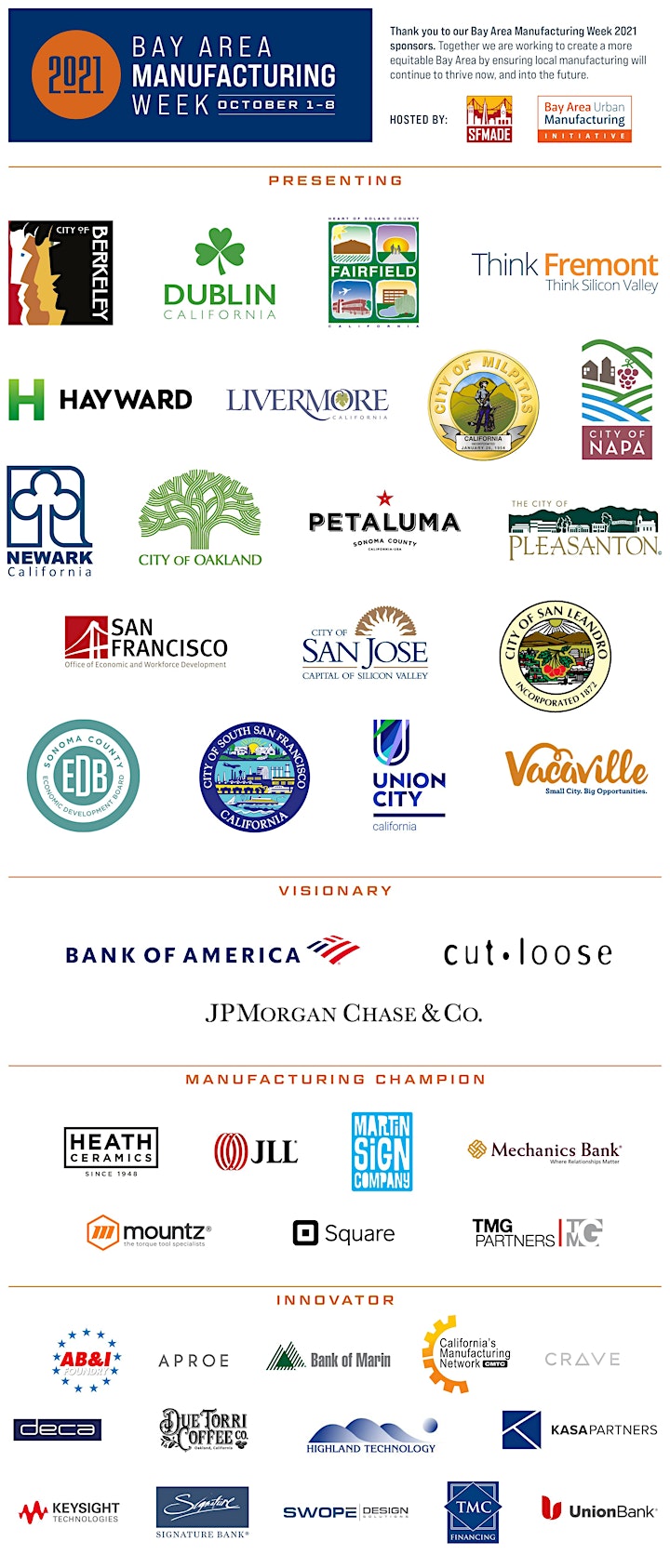 Related Events